5 Top Tourist Attractions In Ohio
Have you ever thought about taking a trip to Ohio but not sure what there is to do? Well, let us share with you some of the most exciting things to do! You will blow your family away. I know a lot of people probably think there's just cows and cornfields in Ohio, but there is a lot more. Did you know Ohio has one of the biggest, most extreme, amusement parks in the United States? It also offers some of the most beautiful caves caverns, and waterfalls to take an adventure through. Let's get more into detail, so you know where you want to go while planning your trip!
Sandusky, Ohio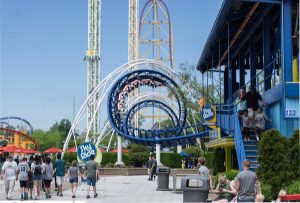 If you're looking for excitement and entertainment and love roller coasters, there's only one place to go, and that would be Cedar Point Amusement Park in Sandusky Ohio. This park contains the best roller coaster rides ever put together in one location!
These rides are not just for adults either. They have a kids amusement park as well. With three kids areas -Planet Snoopy, Camp Snoopy, and the Kiddy Kingdom -your little ones will even have the chance to meet the PEANUTS characters.
"Cedar Point is a place like no other with 18 world-class roller coasters. The riding experiences are so diverse; there's a roller coaster for every thrill seeker that visits the park. From pint-sized starters like Woodstock Express to the 120-mph Top Thrill Dragster – if you love roller coasters, this is the only place you need to be Swing and sway on Iron Dragon, ricochet left and right on Maverick or dive straight down on Valravn. In 2018, Cedar Point introduces Steel Vengeance – the tallest, fastest and longest hybrid roller coaster in the world. It's an amazingly intricate wood structure below with smooth steel track above. Steel Vengeance should be on your "must-do" list! The only place to find these amazing thrill machines is at
The Roller Coaster Capital of the World!"
There are a lot more attractions other than just roller coasters that they have to offer. If you have little ones that are not quite ready for rides Cedar point offers a Splash Zone, "
Shores WaterPark
" featuring 18 acres of splish-splashing family fun! Your kids will love Lakeside Landing they have slides, geysers, and fountains for them to play around. The Mythical Lake Erie Monster, Lemmy, is ready to play at Lemmy's Lagoon. See how brave your kids are when they go on their four capsule drop slide and Point Plummet! They offer cabanas for you to rent out along with fresh food and beverages for when you and your family get hungry from all the adventures offered inside this fantastic water park!
If you and your family are not about the thrill, do not be discouraged there is plenty more to do at Cedar Point. If you want more of a laid-back vacation, you are in the right place! They have many Hotels you can choose. One of them being the
Hotel Breakers
.
"Expanded in 2018, Hotel Breakers is a classic beachfront resort with 669 guest room and suites – many featuring waterfront views and balconies. The hotel features a
TGI Friday's
,
Perkins
,
TOMO Hibachi grill
as well as the Surf Lounge, Starbucks plus a new full-service beachfront bar with a patio and live entertainment. Two outdoor pools, outdoor water playground, and indoor pool provide water fun while everybody can enjoy the outdoor fire pits, beach games, and activities. Additional amenities of the full-service property include wi-fi, luggage assistance, fitness room, arcade, and concierge level."
If none of this sounds like what you and your family are wanting to do while you visit Ohio there's a lot more we are going to show with you!
If you and your family are more the outdoor adventures type, Ohio is the perfect place for that!  Ohio has some of the best waterfalls and hiking trails there is to see! Let us share with you some of the top places to go exploring.
Brecksville, Ohio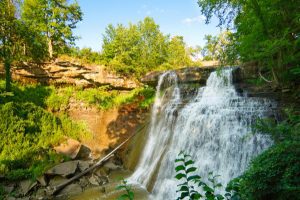 This is not too far from Lake Erie so if you are planning on taking a drive and want to explore this is the perfect place to make that pit stop! It has 65-Foot waterfalls and a fantastic background of history behind this scenic trail.
Brandywine Gorge Trail has 1.5 acres to hike and lets you explore beyond the waterfall. It will take you down to creek level. We recommend if you plan on stopping here you should expect it around the fall or spring!
If you go in the fall, the trees will be giving off there beautiful leaves full of color! The water will be lower for more comfortable hiking. If you are bringing your furry friend as well, it will be easier to navigate through the creeks.
If you are planning on waiting to stop in the spring, the vernal pools will temporarily fill with water, attracting breeding salamanders. The view of the creek and the layers of rock it has exposed are also worth the walk.
Dublin, Ohio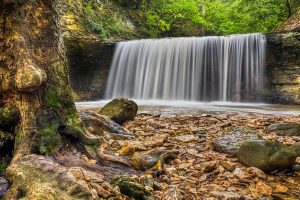 This is a much smaller trail than Brandywine, but if you have little children and have been driving awhile this is the place to go so they can relieve some energy and get some great sites in! It is a Very relaxing atmosphere, and it's something you and your family will appreciate the natural impact of nature. It is not far from the city, but it is in a world of its own.
While you are in Dublin, Ohio, they also offer 130 miles of biking you can do with specific maps of trails you can ride! Check this out now to start mapping your
bike journey
!
West Liberty, Ohio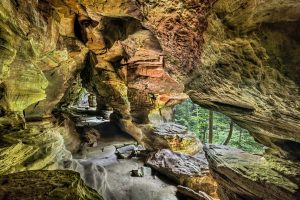 If you would instead go underground and explore the inside of caves and caverns, this is the place to go! It is not just studying on your own. You and your family will have a tour guide to walk you through this beauty! They have offered these historical tours sense 1997.
You will have 1.5 miles of exploring to experience. With five different types of caverns to see. Here are some of them.
The Crystal Sea and Natural Bridge
which holds between 10 and 20 crystal columns and is the original floor of the tunnel.
Fantasy Land and The Old Town Pump
it was named this after the formations in the room, one of which is The Old Town Pump, which resembles a
hand pump
.
The Crystal King and Deepest Point
, Its Deepest Point, is 103 feet (31 m) underground, and its estimated weight is 400 pounds (180 kg) and is over 200,000 years old. The Crystal King and Fantasy Land are farther from the surface than any other point of the cave.
The Big Room and The Good Luck Crystal
at more than .5 acres (0.20 ha), is the largest room in the cave and holds hundreds of formations, including the tallest column in the cave, which is almost 5 ft (1.5 m) tall, and the newest column, which came together in the 1980s.
The Palace of the Gods and Dual Formations
is the most photographed room in the caverns because of its variety of colors and formations. It offers every type of structure in the cave:
iron oxid
e,
manganese dioxide
,
calcite
, stalactites, stalagmites,
columns
,
flowstone
, soda straws, and
helictites
and Dual Formations.
The Jewel Room
Its color is split down the middle of the room so that one side of the room is primarily decorated in iron oxide while the other side is darker from manganese dioxide deposits.
The Historical Section
has very few
speleothems
because most of them were taken as souvenirs between 1897 and 1922, so its main commercial appeals are its color and graffiti.
Cleveland, Ohio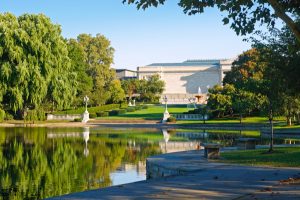 The Cleveland Museum of Art was founded in 1913. It is known for the quality of its collections. The museum includes close to 45,000 objects and is well known for its spans of 6,000 years of public arts. The museum is known to be one of the top comprehensive art museums in the nation, and it is free of charge welcoming anyone who comes to their doors. The Cleveland Museum of Art is located in the dynamic University Circle neighborhood.
If you do not think your children will be interested in this, do not worry. They have a handful of fun activities for you and your family. They offer studio classes for children, art stories, open studio, an art cart, and family guides and art crafts to enjoy.
We could go on with a list of fun things to do in Ohio, but we hope you want to try 1 of these 5!
Read More
Read Less