Top 5 Attractions In Florida
Are you ready to get into the sunshine state but not sure what there is to do? There are so many activities whether it is for you and your spouse or if you have a family. Let us go ahead and explore your options.
Orlando, Florida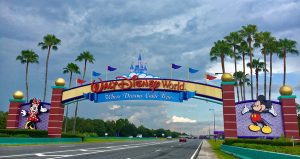 Walt Disney World
Everyone knows that Walt Disney World is one of the top attractions for families with or without children! If you have yet to go and have been thinking about if it is the right place for you and your family here are some things to know before booking your trip.
Walt Disney offers up to 4 theme parks, rides, water parks, and hotels.
If you have little ones, they will be able to meet all their favorite Disney characters.
You may be planning a trip for you, and you're significant other there will be plenty of activities. They have some of the top restaurants to choose from, luxurious hotels, haunted mansions, the gallery of arts and history. The list can go on of all the options that this amusement park has to offer! Do not miss out this will be an unforgettable trip.
Keywest, Florida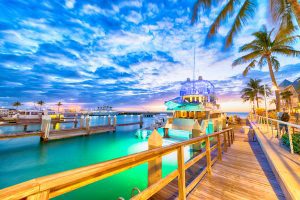 Florida Keys
The Florida Keys is a string of tropical islands stretching almost 120 miles off the southern tip of Florida. It is between the Atlantic Ocean and the Gulf of Mexico. Key West is famous for Duval Street's many bars, Mallory Square's nightly Sunset Celebration and the Ernest Hemingway Home and Museum. They are also known as one of the top destinations for fishing, boating, snorkeling, and scuba diving.
Key West has great attractions for all types of ages. They have the Ernest Hemingway Museum and one of the best Aquariums. Key West even has a ghost tour that will take its visitors through a walking tour in Old Town and will highlight all the homes that are haunted.
The bright blue water will surround you that it makes an unforgettable place to try scuba diving, snorkeling, and fishing. You will encounter the reefs and wrecks of natural and artificial coral. Key West is the home to much tropical fish. If you do not plan to snorkel or dive you will still be able to witness the sea life that Key West has to offer.
If you are a foodie and love fresh fish off the grill, then you are in the right place. Key West offers multiple restaurants. If you just got back from a fishing trip and want only to grab a drink and have them cook up your catch, no worries. There are endless places that it has to offer.
Miami, Florida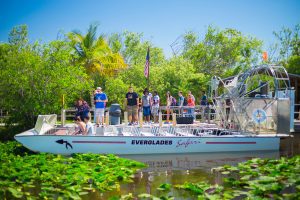 Airboat In The Everglades
If you are staying in Miami and are thinking about getting out of the city and going on an adventure, this will be an experience! Airboat In The Everglades offers transportation to come to pick you up from your hotel and bring you to the Everglades. They offer sunset and nighttime tour, so you can all the natural beauty that Florida has to offer.
If you are strictly just wanted to see alligators and other sorts of wildlife, then you definitely will want to take their airboat adventure! They offer different packages depending on if you're in a tight time frame. We highly recommend this trip if you are into photography and love nature at its finest. You will be able to see all different types of animals throughout this ride. Do not miss out on this tour!
Chiefland, Florida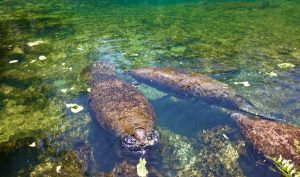 Manatee Springs
Are you not on the beach and hot sand? That is not all Florida has to offer. They are well known for the freshwater springs. These springs are bright blue to where you can see the bottom. Even more special about Manatee Springs is this is the place where manatees go on vacation.
Manatees swim from the Gulf of Mexico and into Florida's springs in search of a warmer climate during the winter months when the ocean's temperature goes down. The spring remains as high as 72º F, making it a perfect place for manatees to hibernate. Manatee Springs is not only home to the manatees in the winter but also to another native animal, including alligators, largemouth bass and perch.
Swimming is allowed during the summer but not in the winter, so the manatees have space and shelter to stay. If you are planning your trip during the winter to get out of the cold yourself, kayaking is permitted year-round. Manatees are un-shy so do not be surprised if you have an interaction with them. They tend to swim up to the boats and kayakers so you can pet them. You may even be lucky enough to spot a baby manatee; the warm waters also become a nursery because of calving month falls into winter.
Williston, Florida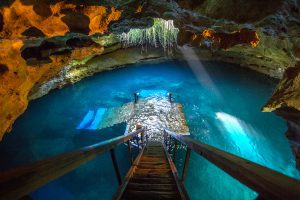 Devil's Den
If you are super adventurous and love to go scuba diving and to snorkel this is the place to go! Devil's Den offers a fantastic journey under water and into an underground cave.
If you have not been snorkeling and needed to lesson, they do offer it at the there scuba diving training center. This is not where you would go for general swimming. Devil's Den is not a kid-friendly activity, so if you have little ones this is not a place we would recommend to go! This would be a trip you would take to see all that it has to offer specifics. With crystal clear water, year around 72-degree water and its known ancient rock formations this is not something you want to miss out! You are guaranteed to see fossil beds dating back to 33 million years that are unforgettable.
Devil's Den offers cottage lodging, so you feel like your camping but with a warm bed and running water. They offer cabins to rent and sleep up to 4 people! If you own an RV no worries, they have a sight for you to park and get set up! This is defiantly this spot for you and your friends or loved one to stop and see; you will not regret it.
I hope we helped navigate you through Florida and put some activities on your itinerary.
Read More
Read Less