Things to do in Pennsylvania
Planning a trip to Pennsylvania but having trouble deciding what to do while you are there? We will give you some of the top 5 things you should do on your trip! Pennsylvania is a diverse state that offers a vast stretch of farmland, national forests, and mounts to the city. It is also very historic. It displays the Independence Hall and the Liberty Bell that is an enduring symbol of Americans freedom that we have today.
Philadelphia Museum Of Art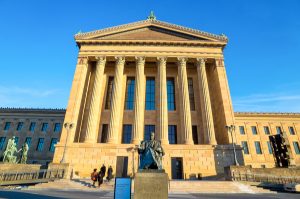 The Philadelphia Museum Of Art is a landmark building that offers a world-renowned collection. Their collection includes anywhere from a most extensive selection of Marcel Duchamp to the most beautiful Auguste Rodin's sculpture in the United States.
When planning a visit to the museum you have different buildings and rooms to choose! from We suggest you make an itinerary before you go. They have two historic houses to see, Cedar Grove and Mount Pleasant. They are not on the same property but are a part of the museum. With a long filled day of art and history, you will have a few dining options along with some shopping.
Lapp Valley Farm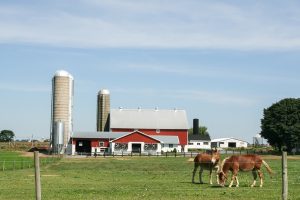 If you live in the city and need to get a breath of fresh air, here is where you need to go! It is about 2 hours out of the city in Lancaster County. This day trip offers hormone-free dairy products and homemade ice cream. You will get to see how farm animals are taken care of and watch cows getting milked. Guests can pet the calves while being bottle-fed. You will be able to walk around where bulldogs, cats, and peacocks roam free. Before you leave, do not forget to stop and pick up some stuff to take home! They offer a large variety of dairy products such as butter, different types of milk and ice creams to enjoy later!
Gettysburg National Military Park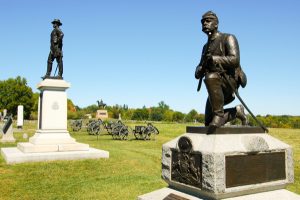 The Gettysburg National Military Park is nearly 6,000 acres of land and contains streams, agriculture, woodlands and fields filled with wildlife. You will see anything from various mammals, reptiles, amphibians to different types of birds. If you want more than sightseeing, you are in the right place. It is also educational and entertaining. You will be able to see the historic Battle of Gettysburg. Visitors can learn about the people that were a part of the battle though there presentations and pictures.
If you are confused when you get there on what to do, make sure you stop over at the visitors center. They will be able to provide you with the information you need and help you plan your day! The park has housing you can rent while you are there. If you are going for a scouting or youth trip, do not worry they have the McMillan Woods Youth Campground that is open from April to Mid-October for your child.
Do not miss out on this historic trip and beautiful scenery!
Hershey's Chocolate World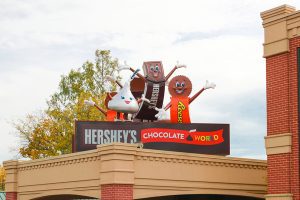 If you are a chocolate lover or want to know how the candy bar you see every time you go to the store is made then take a trip to Hershey's Chocolate World!
With offering such a large variety of things to do you will not be disappointed! Hershey offers you and your family to do a Chocolate Tour you can learn about how the factory can produce large quantities of chocolate. You will be able to witness behind the scene before it enters your local store. You can also create your candy bar or do chocolate tastings. If you decide to come to check out this chocolate fantasy you have to experience the 4D Mystery!  It is an interactive game that utilizes digital animation and special effects, inviting them to become part of the show and interact with the characters while they race to solve a mystery. You kids will be talking about it all the way home!
After your experience at Hershey's Chocolate World, you will never look at a Hershey's bar the same!
Eastern State Penitentiary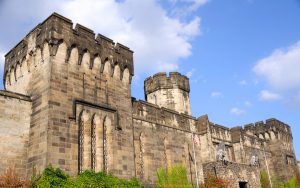 Are you into history and a thrill? Then this much go on your itinerary! The Eastern State Penitentiary, also known as ESP, was an American prison located in Philadelphia. The prison eventually ended up closing in 1970. Its solitary confinement finally collapsed due to overcrowding. If you are wondering why this historic landmark is special it is because it has become home to a few people you may have heard. The infamous Willie Sutton aka "Slick Willie" one of the top bank robbers in the 1930's escaped. Others such as Alphonse "Scarface" Capone served eight months in the 1900's. It even took a city of inmates after the riot at Holmesburg Prison.
Upon arrival, you will receive an Mp2 player and headset that will guide you around the prison and go through the history with you. You will hear more about the escapes, riots, sport, sexuality and more. No guide will take you near or along this landmark. You will be free to explore on your own which makes it, even more, relax and timeless.
Read More
Read Less